Home
›
Atheists Only
For the FORUMERS only!
This has become a remarkable place - a haven where intelligent people from around the world are able to freely share their ideas - and we're extremely proud to be a part of it.

To celebrate, we just created

three new shirt designs

and are offering them to all of you on the forum before anyone else. At a

discount

, too. So right now, the only place to get these shirts is

through this thread

.

Here they are:

gods

-

the stylized rendering of a city skyline beneath a brilliant sun; if ever there were creatures with the power to freely form the world to suit their desires, it would be

us

.
the truth
-
bears the statement: "A lie is a lie even if everyone believes it. The truth is the truth even if nobody believes it."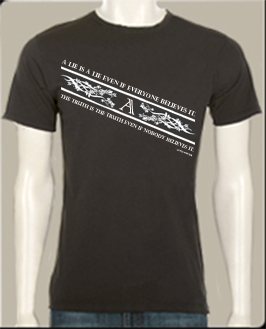 when I die
-
The famous Bertrand Russell quote: "I believe that when I die I shall rot, and nothing of my ego will survive. I am not young, and I love life. But I should scorn to shiver with terror at the thought of annihilation. Happiness is none the less true happiness because it must come to an end, nor do thought and love lose their value because they are not everlasting. Many a man has borne himself proudly on the scaffold: surely the same pride should teach us to think truly about man's place in the world."